Guterman and Alterowicz family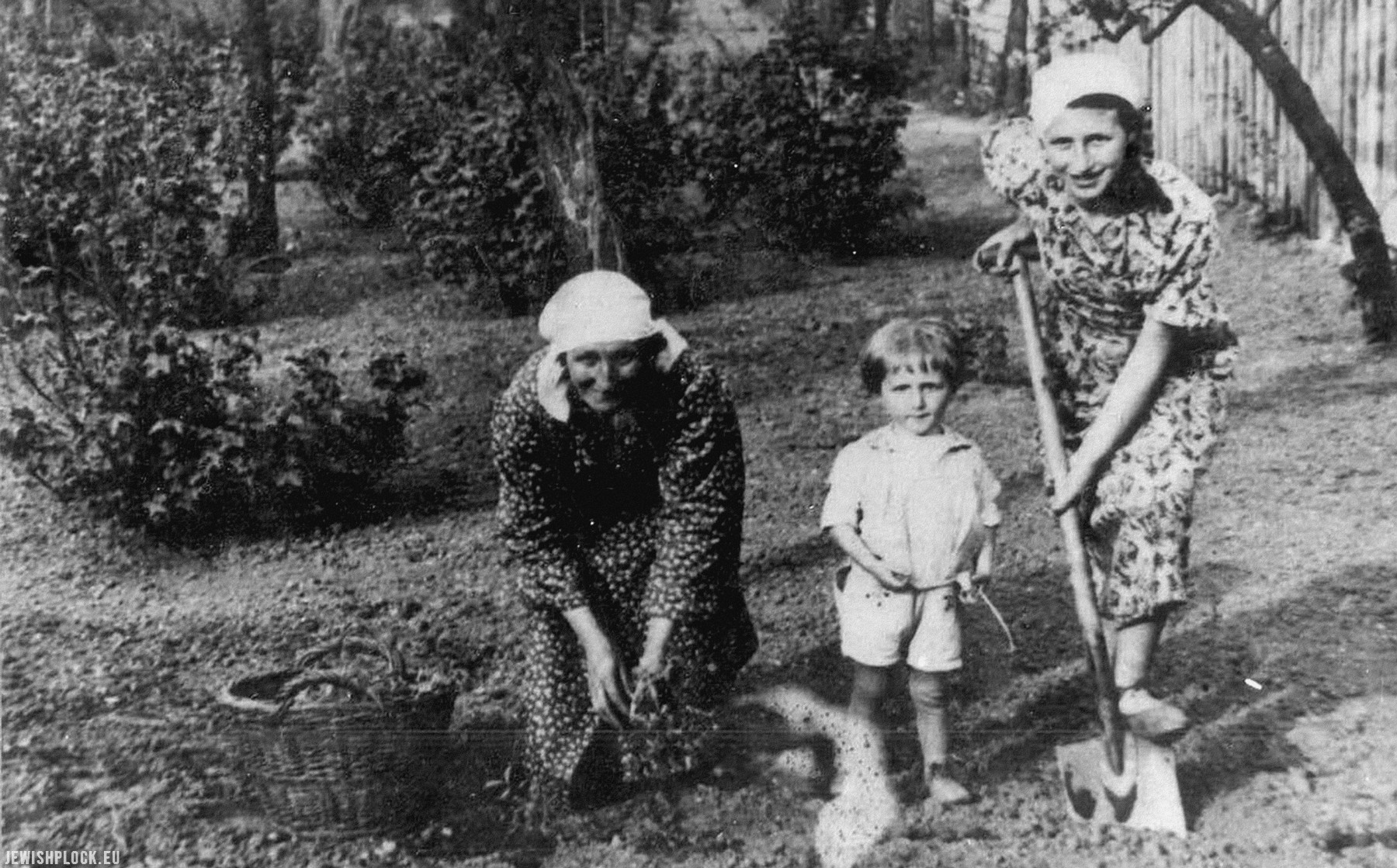 Symcha Guterman (Symcha's biogram can be found here – link) was born on September 1, 1903 in Warsaw, as the son of the talmudist Menachem Mendel (born ca. 1870) and Bajla Gitla née Fiszman (born ca. 1872). His mother came from a wealthy family from Kozienice on the Zagożdżonka river, where her father – Berek Fiszman (born in 1831) owned a mill. The Gutermans had many children (apart from Symcha, the children of Menachem Mendel and Bajla Gitla were: Jankiel, Szlomo, Idka, Chaja, Mindla and Sara), and was definitely a loving, warm and solidary family full of love and devotion. During World War I they moved to Płock, where Menachem Mendel's brother – Rachmil (born 1875), who professionally dealt with basket production, lived (his company was registered at Szeroka Street at number 57). Symcha Guterman, after serving in the infantry of the Polish Army, founded a knitting workshop in Płock, in which his mother and sisters also worked. In 1930 he was one of the co-founders of the Płock department of the Frajhajt organization. As a member of its board, he became a well-known activist in the field of cultural and educational activities.
In 1933, Symcha married Ewa Alterowicz from Płock (born in 1908), daughter of Jakub (1844–1919) and Necha née Tyszman (born in 1858). The family of Ewa's mother came from Płońsk. Necha's father was a tailor Nucha Tyszman (born ca. 1834), her mother – Frajdla née Szostak (born ca. 1832). Necha married Jakub from the village of Młotkowo in 1885. The young married couple lived in Płock at Jerozolimska Street, and in 1886 their first son Pinkus was born. Necha and Jakub were also the parents of Icek Szlama (born in 1892), Mojżesz (born in 1895), Eliasz (born in 1898), Sura (1889–1905) and Czarna (born in 1896). During the interwar period, Icek Szlama Alterowicz worked in Płock as a printer, Eliasz Alterowicz – as a tailor (he lived with his wife Tyszla and daughters Chana and Fradel at 59 Kwiatka Street), Icek Szlama Alterowicz, married Gitla née Cynamon (their children were Abram Hersz and Barbara Miriam), he was a typesetter by profession. In 1927, Czarna Alterowicz married the tailor Josek Jesion from Gostynin.
Ewa Guterman was a tailor by profession. Together with Symcha and his son Jakub, born in 1935, they lived in a one-story house at the end of Sienkiewicza Street, near the seminary. Opposite lived the relatives of Ewa: Szajna Fuks née Alterowicz from Kosemin (born in 1858) with her daughter Małka (born in 1889) and her children from the first marriage with Dawid Józef Chuczer – Chana Łaja (Lodka) (born in 1920) and Icek (born 1914) as well as children from her second marriage – Jakub Grosman (born 1928) and Sara Grosman (born 1930).
Symcha Guterman fell in the Warsaw Uprising on August 1, 1944. He left a valuable diary in which he wrote down the occupation history of the Jews of Płock. Ewa Guterman, who after the war married Szlomo Chaim Grzebień, in the years 1945–1949 was a member of the board of the Jewish Committee in Płock. In 1950, she emigrated to Israel with her husband and son. Jakub Guterman – a painter and illustrator who is a member of the Haogen kibbutz, maintains constant contact with Poland and often visits his hometown, being very fond of it. Lodka Chuczer, who was "the second mother" for Jakub Guterman, also survived World War II. In 1950, she emigrated to the United States with her husband Felek.

Photos from the private collection of Jakub Guterman:
---