The tenement house at 17 Old Market Square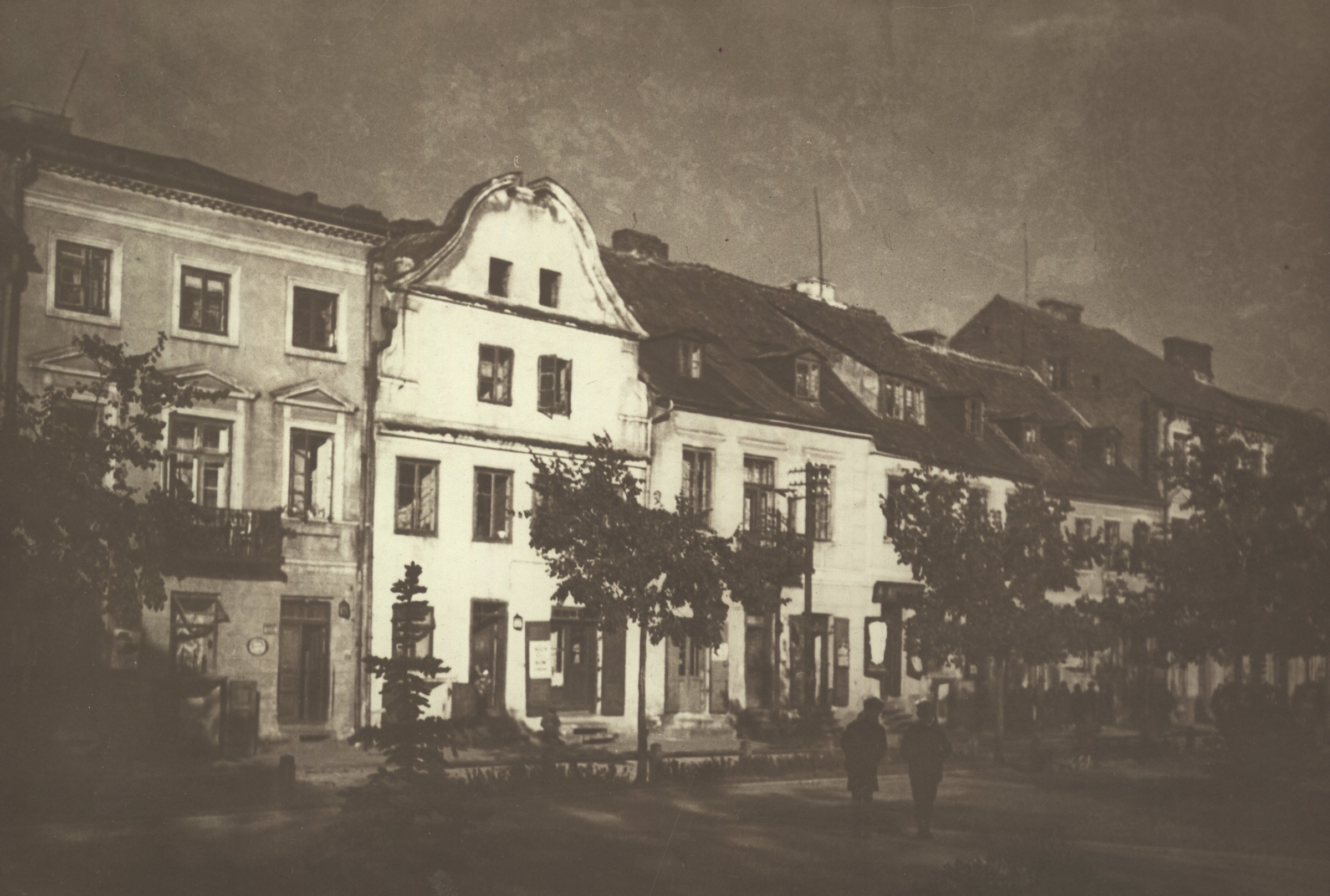 The baroque tenement house, in the type associated with the northern circle, was erected in the third quarter of the 17th century. Since 1850, the owner of the property was a grain merchant, Ojzer Lewita. In the years 1852-1855 and 1857-1862 he tried to sell his property to the Honorary Advisor and the Supervisor of the Płock Prison, Szymon Dzierzgowski. In 1862, Jakub and Chawa nee Finkensztejn Grubman bought the property. In 1891, their children inherited the property, including daughter Rozalia Kapłan nee Grubman, who became its only owner in 1904. In 1920, the house was purchased by Mordka Bol.
The property housed the private 4-class female school of Gołda Tasiemka (Wolfsdorf), a graduate of the 7-class Jewish female school of Emilia Perkal in Warsaw. The school implemented a syllabus corresponding to the government's female progymnasium (a type of middle school). The school was very popular in the Płock community, attended by about 60 girls.
The son of Ojzer and Dwojra Amalia nee Funkiensztajn was Gustaw (Gerszon) Lewita (1852-1889) – a composer and world-famous pianist. In the years 1872-1874 Gustaw Lewita was educated in playing the piano at the Conservatory of the Music Supporter Society in Vienna. He was a member of the Pas de Loup orchestra in Paris. In the years 1879-1880, Lewita was a piano teacher at the Apolinary Kątski Music Institute in Warsaw. In 1880 he went on a concert tour to France. He also made a concert tour of the United States and Latin America. In 1882 he settled in Paris. He gained fame as a performer of the works of Fryderyk Chopin and Robert Schumann.
Bibliography:
Karta ewidencyjna zabytków architektury i budownictwa, oprac. D. Zaremba (Wojewódzki Urząd Ochrony Zabytków w Warszawie Delegatura w Płocku)
Nowak G. Żydowskie szkolnictwo w Płocku w latach 1865-1914 w świetle źródeł archiwalnych, "Rocznik Muzeum Mazowieckiego w Płocku" t. 20 (2016), s. 182-198.
---