Ewa Guterman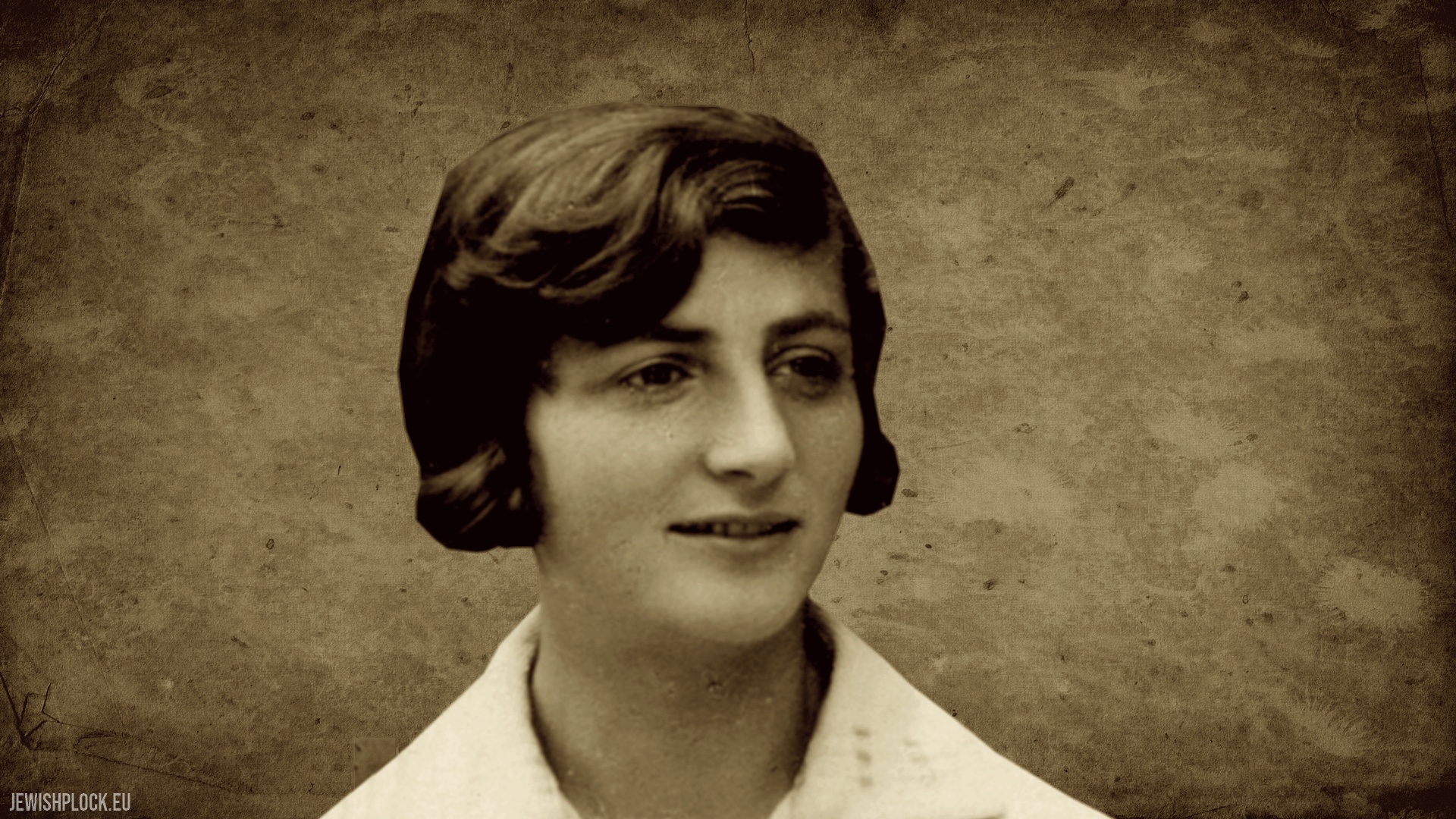 Ewa Guterman was born in 1908 to the family of Jakub Alterowicz and Necha née Tyszman. She had several siblings: brothers Pinkus, Icek Szlama, Mojżesz, Eliasz and sister Czarna. Ewa made a living by tailoring, which she learned at the "ORT" courses in Warsaw. In 1933, she married Symcha Guterman (1903-1944), who, after serving in the infantry of the Polish Army, ran a knitting workshop in Płock. He was also one of the co-founders of the Płock branch of the Frajhajt organization, to which Ewa also belonged. In 1935 their son Jakub was born – their only child to whom they showed great love. Ewa with her husband and son lived in a one-story house at the end of Sienkiewicza Street, right next to the theological seminary.
After the ghetto was created in Płock, Ewa, together with her husband and son, were displaced to a cramped flat on the third floor of a tenement house on Szeroka Street, which at that time was called Breite Strasse. She was deported on March 1, 1941, the last day of the liquidation of the Płock ghetto: on that day, she dressed her son in several layers of underwear and clothes, covered him with a down duvet, took him in her arms and walked down the steep stairs to the cobbled street, where the Germans were gathering Jews from Płock: crammed within the crowd, chased by SS men and pushed with rifles, they were loaded onto a military truck and sent to the concentration camp in Działdowo. After a few days, they were driven into wagons and sent south-east to the General Government, then to various places near Kielce.
Ewa and Symcha with Jakub managed to find shelter in Ostrowiec, where a Pole, Stanisław Szcześniak, offered them some residential space. Not only did he make friends with the two inhabitants of Płock, but he also obtained a copy of the birth certificate of his cousin, Władysława Duda, so that Ewa could officially get a Kennkarte on its basis. Documents were also made for Symcha, who took the surname Pawłowski, and for Jakub, who became Stanisław Duda. Shortly before the liquidation of the ghetto in Ostrowiec, the Gutermans moved to the suburbs, to a neighborhood of small houses, separated from the city by marshes. Then a misfortune happened to them – Ewa lost her Kennkarte. For several days, from dawn to dusk, she walked in the nearby swamps in despair, trying to find the lost document. Luckily, the document was found and returned to its owner.
During World War II, the Gutermans also stayed in Żyrardów, where Ewa undertook the dangerous task of earning money – she smuggled food. She was a tough and resourceful person, but also a beautiful woman of Aryan type of beauty, who spoke Polish perfectly, and thus did not arouse any suspicions. She was driven by her will to live and, above all, by a great love for her only son – together with her husband, she was constantly struggling to save his life.
In 1943, the Gutermans found themselves in Warsaw. However, they did not live together, Symcha worked in the knitting workshop of the Mariavite sisters, they were seeing each other from time to time. Ewa and Jakub lived on the fourth floor of a tenement house on Żelazna Street.
One day, at the intersection of two streets in the center of Warsaw, a young, drunk man accosted her. In a hoarse voice, he announced that she was a "lousy Jew" and demanded money. Instinctively, she turned to a policeman standing nearby. She explained that she had been attacked and insulted, and stated that it was worth checking if the man was an escaped Jew. The policeman took them to the police station. After some time, she heard the long-awaited words: "You are free to go, lady."
Together with her husband, she decided to place Jakub with the family of one of the Mariavite sisters in the village of Wygoda near Łowicz. The boy worked until the end of the war as a cowherd in the nearby village of Zawady.
During the Warsaw Uprising, Ewa was hiding with other residents of the tenement house on Żelazna Street in the basement. The building was completely destroyed as a result of the bombing, except for the deep cellars. Every day someone would sneak out of the hideout to find something to eat among the ruined houses. From one of such trips, Ewa kept a surprise for her son – a bottle of apple wine.
The next meeting with Ewa is touchingly described by her son Jakub in the preface to the book "Leaves from Fire":
"One day at sunset, I was walking home after work. I was dressed in a rough linen shirt and torn pants. I walked barefoot on prickly stubble, drove slow, fat cows, and sang loudly. Suddenly, on the other side of the river, I noticed a woman. She was dressed like a townswoman in a gray suit. She was sitting in the deep grass, her back to me. My heart began to beat harder and faster. As I approached the woman, I could clearly see her back trembling. It was my mom. I threw myself into her arms and we cried together. I couldn't utter a word… ".
Ewa stayed with her son in the countryside until the spring of 1945. She then returned to Płock, where she married Szlomo Chaim Grzebień (Symcha Guterman died in the Warsaw Uprising on August 1, 1944). In the years 1945-1949 she was a member of the board of the Jewish Committee in Płock. In 1950, she emigrated with her husband and son to Israel. She died on October 25, 1957 in Kiryat Motzkin.
(text based on the book "Leaves from Fire" by Symcha Guterman)
. . .
"Broken life. The fate of women of Płock during World War II and the Holocaust" is a series of texts on JewishPlock.eu, in which, between 22 February and 1 March 2022, we will recall the stories of Jewish women associated with Płock – those who were born in our city, but also those who lived or stayed here for a certain period of time. Courageous, persistent, wise, strong and caring. Women who fought for the survival of themselves and their families. They looked after children, orphans and the elderly, gained food, aided the wounded, and engaged in military struggle. They worked beyond their strength in Nazi forced labor camps. We will present the profiles and memories of women who survived the Holocaust. We will also commemorate the women of Płock who perished in extermination camps. Sometimes the only remaining trace of them today is a single entry in archival documents…
The project is implemented by the Nobiscum Foundation as part of the 81st anniversary of the liquidation of the ghetto in Płock.
---