25 Kwiatka Street – the Rabbi's House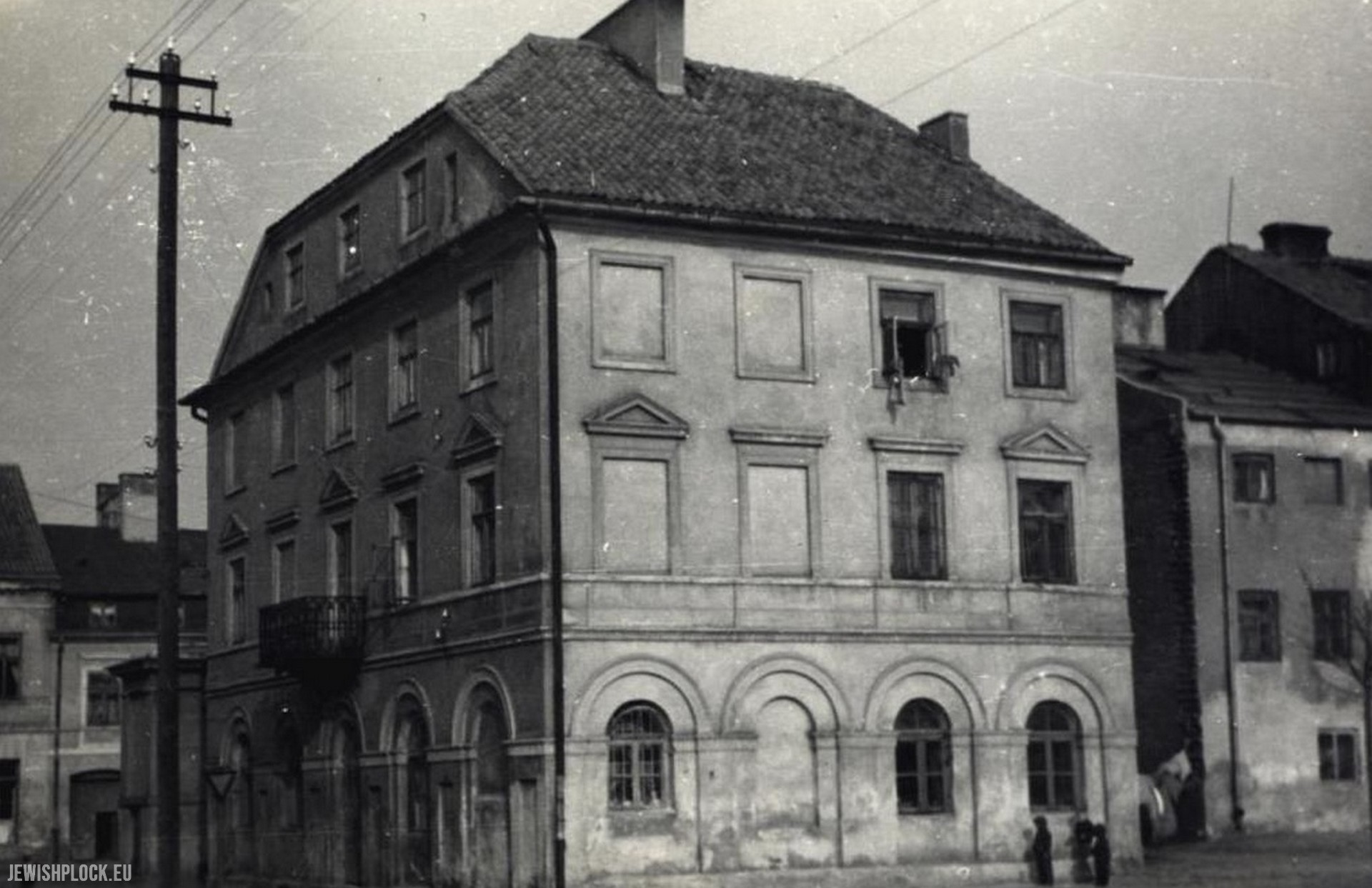 On October 15, 1821, Józef Jakub Kreyzler aka Josek Sokół and Gerszon Lewin Gradel aka Mintz concluded contracts for the perpetual lease of squares marked with numbers 68 (town square measuring 20 bars, with an annual rent of 1 złoty and 2 grosz) and 69 (town square measuring 20 bars, with an annual rent of 1 złoty and 2 grosz) with the Municipal Office of the Town of Płock. Before 1827, they erected a residential building on the square. It was a half-timbered house, with one upper floor, covered with tiles, 20 ells long, 12 ells wide, 6¼ ells high, located at the corner of Jerozolimska Street and Nowa Street, the internal layout of which was as follows: on the ground floor, entering from Jerozolimska Street, from the hall on the right and on the left hand, there were rooms, a shop with a room and a kitchen (a laborer, Marek Bromirz, who paid an annual rent of 126 złoty, and Lewek Abraham, who paid 180 złoty of an annual rent, lived here); There was a basement under this apartment where Michał Mięter lived, paying 90 złoty of an annual rent. On the first floor of the hall on the right there was a room and an alcove, which was occupied by Lewin Goldszyd. On the left hand of Nowa Street there was a room with a chamber, and in the attic there was one room with three storage places. There was no yard by the house.
Both Josek Sokół (ca. 1777–1844) and Gerszon Lewin Mintz (ca. 1769–1839) were tailors by profession.
On April 27 / May 9, 1835, the Municipal Office of the Town of Płock gave permission to Gerszon Lewin to sell the property at number 69 to his son Lewin Mintz. The contract was concluded on May 6/18, 1835.
As a result of the purchase and sale contract of June 1/13 and the regulation protocol of June 4/16, 1843, Chana Sura and Lewin Goldszyd, Szajna Chaja and Szulim Kurant and Abraham Szmul Sokół became the owners of the property marked with number 68.
Under the mortgage regulation protocol of June 4/16, 1843, separate mortgage books were established for real estate numbered 68 and 69.
Lewin Goldszyd and Szulim Kurant then purchased 1/3 of this property from Abraham Szmul Sokół for 1200 złoty under a purchase and sale contract of August 8/20, 1844. In the same year, Lewin Goldszyd and his wife, Chana Sura, gave their daughter Szaja Estera and her future husband, Symsza Szrejber, one store room from their property on the front of Jerozolimska Street, formerly owned by Alter Abraham, for a period of 12 years.
Under the contract of July 24/August 5, 1853, half of the real estate belonging to Szajna and Szulim Kurant was bought by Icek Karasek (born 1819; son of Mordka and Liba Karasek) for the amount of 3600 złoty. Icek Karasek then purchased half of the real estate with two store rooms from Chana Sura nee Sokoł and Lewin Golszyd for 9350 złoty under a purchase and sale contract of September 25/October 7, 1853. On February 11/23, 1854, Karasek bought property number 69 from Lewin Gerszon Mintz.
In 1857, Icek Karasek demolished the old buildings that were in danger of collapsing, and in 1860 he erected a new brick house. It was a residential house, made of lime-burnt brick, with a ground floor and two floors, with basements under half of the house, covered with tiles, 54 Russian feet long, 34 feet wide, 36 feet high. The value of the buildings, including the square, was estimated at 83 898 złoty and 22 grosz.
The location of the building at the corner of Szeroka and Jerozolimska Streets allowed for the design of two frontages, while the frontage from Jerozolimska Street took over the main function. The semicircular arcades of the ground floor openings and the first floor enriched with triangular pediments are characteristic of this building, known today as the Rabbi's House.
In his house on the corner of Jerozolimska and Szeroka Streets, Icek Karasek ran a company – a store selling iron and agricultural tools (he was granted the iron trade permit on October 12/24, 1843), in which, according to an advertisement in the "Płock Calendar for a Leap Year 1876" , one could purchase, among others, threshers and manages from various domestic and foreign factories, chaff cutters, grinders and choppers, Boston winnowing machines, Prussian scratchers, Września plows, Czech harrows and extirpators.
Under the protocol of August 7/19, 1861, real estate no. 68 and 69 were merged into one mortgage book. In 1885 the property was purchased by Ewa Irina Stefania Fijałkowska for 4815 rubles.
The next owner was the trader Ber Taub (born 1860), son of the trader Izrael Icek and Nycha Fajga, who bought it for the sum of 4900 rubles under the contract of April 25 / May 7, 1897. The property was bought from Taub by Majer and Chasza Frenkiel for 41 000 marks and 5 000 rubles under a purchase and sale contract of July 18, 1919.
In 1931, 29 people lived at 25 Szeroka Street. They resided in eight apartments together with their families: Gołda Nordenberg, Pinkus Zylber, Ruda Brana Rogonowicz, Ber Taub, Szajndla Bursztyn, Jakób Nagiel, Majer Frenkiel, Ruchla Szeraszew, Zelman Libson, Stanisław Ciesielski and Wiktor Modelski.
Before the war, at 25 Szeroka Street, registered were the companies of Dawid Jesion – confectionery trade, Ber Ciechanowski – shoe shop, Jakub Płockier – hat maker's workshop, Pinkus Zylber – trade in fabrics, Mordka Moszkowicz – clothes shop and Icek Kronenberg – haberdashery shop.
Bibliography: Nowak-Dąbrowska G., Okno na Kwiatka. Ulica Józefa Kwiatka w Płocku od początku XIX wieku do 1939 roku – ludzie i zabudowa, Płock 2019
---