4 Kolegialna Street – history of the place and the people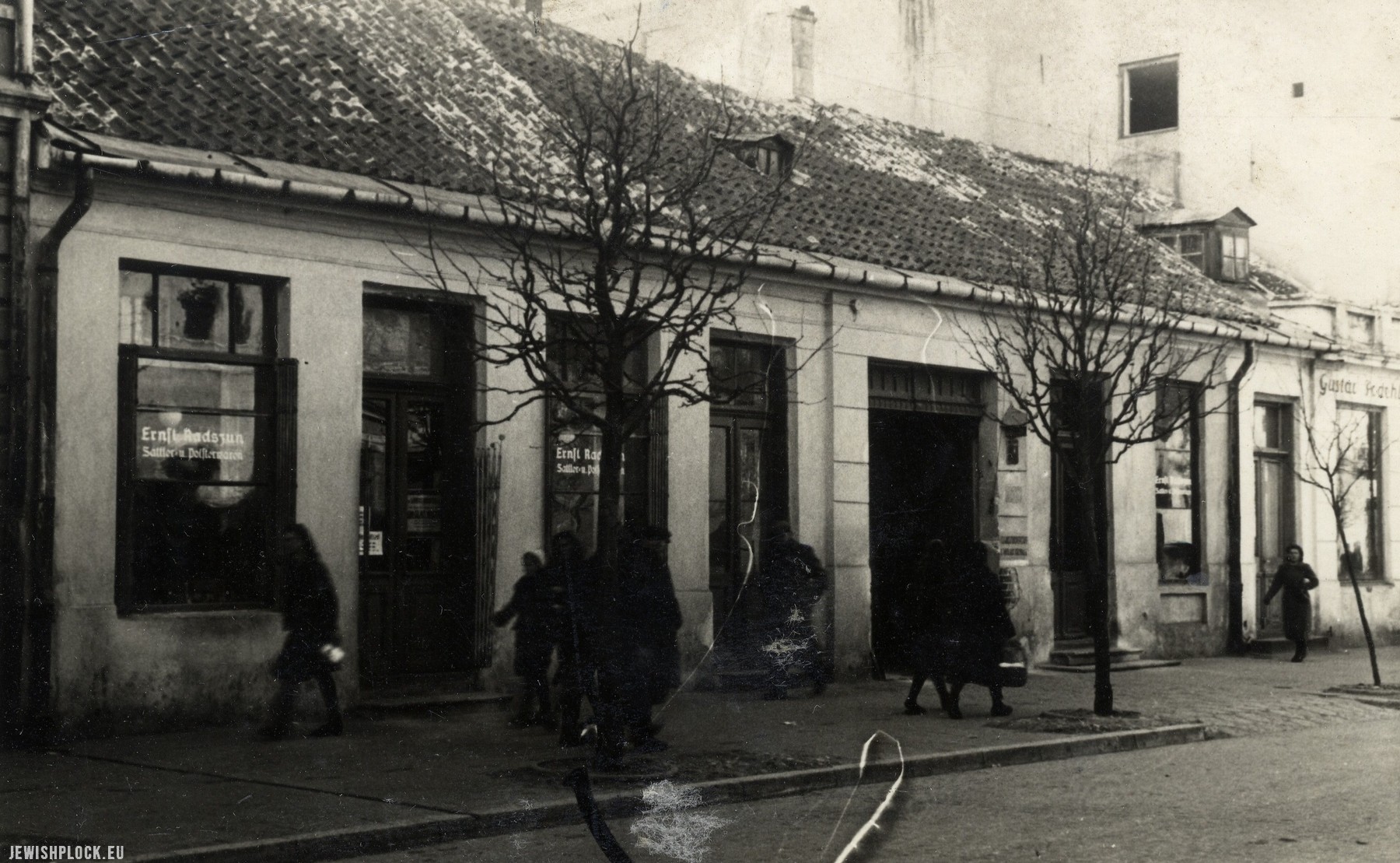 At the beginning of the 19th century, the square with a brick house on the property marked with mortgage number 283 belonged to a carpenter Jan Franciszek Frahm (around 1768-1813) from Hamburg. As he had no children, after his death the property was inherited in half by his wife Krystyna née Mertens, and in the second half by his brother – Joachim Henryk Frahm (around 1775-1819), who was a master blacksmith. By virtue of the arrangement concluded in the Płock Notary Office in 1815, Joachim Henryk purchased her part of the property from Krystyna.
After the death of Joachim Henryk Frahm, the property was inherited in half by his children – Jan Franciszek and Fryderyka Wilhelmina, the second part was received by his wife – Fryderyka Wilhelmina née Elz, who, after the death of her husband remarried to Józef Siłakowski, who she admitted as co-owner of the property.
Józef Siłakowski (born in 1791; son of Szymon and Petronella née Kosiński) was a blacksmith by profession, and also a fireman in Płock.
In 1842, Fryderyka Wilhelmina and Józef Siłakowski acquired 1/4 of the property from Fryderyka Wilhelmina Bohm née Frahm. Four years later they bought the part of Jan Franciszek Frahm. After the death of Józef Siłakowski, the co-ownership of the property was inherited by his son Jan Siłakowski (born in 1820) as well as Augusta Wilhelmina and Jerzy Juliusz Herml (grandchildren). The heirloom of Augusta Wilhelmina Winkler née Herml was acquired by virtue of the acts of 1871 and 1873 by Fryderyka Wilhelmina Siłakowska née Elz.
At that time, apart from the brick front house, there were two granaries, a smithy, a brick outbuilding and four wooden outbuildings. There was a garden at the back of the property as well.
In 1877, Jan Siłakowski purchased a 5/8 part of the property from Fryderyka Wilhelmina Siłakowska, becoming its sole owner. In the same year he sold it to the merchant Lejb Płońskier.
Lejb Płońskier was born on July 1, 1844 in Płock, as the son of Mordka and Sura. His wife was Nycha Małka née Horenfeld (1842-1894), daughter of Dawid and Sura Ryfka née Bauman. Lejb Płońskier traded tobacco products. He was also a well-known social activist, co-founder and member of the board of the Society of Free Medical Assistance to Poor Jews, and co-founder of the Jewish Charity Society in Płock. He was also a member of the Płock Jewish religious commune supervision.
During Lejb Płońskier's ownership, significant investments were made in the property. In 1879, the owner received permission to build a store in the outbuilding, and the following year – to open two shops in the front house. In 1887 he received permission for building a third floor extension of the brick outbuilding in the yard of the property and construction of another wooden outbuilding.
According to information from 1888, next to the brick, one-story front house, with rooms in the attic, in the property there was also a brick one-story outbuilding covered with tiles (a wooden outbuilding stood between the above-mentioned buildings), a three-story stone outbuilding with basements, a brick wall sukkah and a three-story brick outbuilding. Furthermore, there was an orchard and a number of utilitarian buildings.
In 1898, the one-story front house was extended and rebuilt, the three-story outbuilding was extended, and a one-story brick outbuilding was erected. In 1900, a brick one-story utility building was erected as well.
After the death of Lejb Płońskier (he died in 1908), the property was inherited by his children: Rafał, Szajna Hinda Sztern, Hena Rojza Fast, Ruchla Łaja Lewin, Rywka Lewin, Hudes Szlosberg, Ejdla and Blima. The sisters sold their parts to Rafał for the sum of 6839 rubles.
Rafał Płońskier (1870-1930), married to Chana née Kino, with whom he had three children: Moryc Markus, Fejbusz and Mira, was an industrialist. Before World War I he was a manager of a tobacco factory in Grodno. He was a member of the Credit Society in Płock, from 1912 a partner in A. Rogozik's Banking Company. From 1905, he was the vice-president of the Jewish Community Council in Płock, from 1918 – the president of the Trade Union of Jewish Merchants in Płock. In the interwar period he was the president of the Jewish Hospital. He was also a member of the board of the Jewish Charity Society. He was a co-founder of the Association of Real Estate Owners of the town of Płock.
Since 1917, Edward Trautman's bookstore operated in Płońskier's estate. In the interwar period, at 4 Kolegialna Street, there was a grocery store of Szlama Lanilut, tobacco shop of Rafał Płońskier (later of M. Szlossberg), sewing machines were sold there by Henoch Szylit, and roofing paper by B. Zeligman.
Among the residents of the property was the well-known photographer from Płock, Samuel Józef Ostrower.
Samuel Józef Ostrower (1888-1933), son of Icek Gitman and Szajndla Ruchla née Lask, in 1918 married Dwojra Borensztejn, daughter of Moszek Jakub and Rajzla née Tyński. In 1922, their son Alexander was born. Ostrower received education related to the profession of photographer thanks to Apoloniusz Grzywiński in 1908-1911. After serving in the army from 1911 to 1913, he practiced in Zambrów and Lipno for four years. From 1917 he worked at the photographic studio of Sylwin Przybojewski. In 1921 he opened an independent photographic studio under the name "Rembrandt" Artistic Photography Studio. The studio was located in the yard of the property at the corner of Tumska and Kolegialna Streets. The area of Ostrower's photographic activity was portrait, individual and group photography. Ostrower's photographs were published in the local press, including "Mazowsze Płockie and Kujawy". During the "Art of Płock" exhibition, presented in 1932, Ostrower exhibited five photographs titled: "Interior", "Head" (three photographs of this title) and "Studio". In 1932, Ostrower moved the studio to 8a Tumska Street. After his death, the photo studio was run by his wife Dora with the help of photographer Szmul Robak. Because it brought little income to its owner, who had a child, in 1936 she sold the studio to Abram Watman.
Around 1933, Adam Neuman-Nowicki (born 1925 – link: the biogram of Adam Neuman-Nowicki) moved to Płońskier's tenement house with his parents – Mosze Szlomo (1893-1942) and Frymeta neé Goldkind (1894-1942). Mosze Szlomo Nejman was an accountant at the Margulies agricultural machinery factory, later he ran the state lottery at 3 Kolegialna Street. In the tenement house at 4 Kolegialna Street, the Nejman family ran a hotel. Adam Neuman-Nowicki recalls their apartment in the Płońskier tenement house:
The property on Kolegialna Street had a one-story front house, three outbuildings and two courtyards. On one side of the entrance gate there was Kozakiewicz's confectionery, and on the other side – Szylit's bicycle shop. The caretaker lived in the one-story outbuilding on the first floor, and a tenant on the ground floor. In the middle outbuilding on the first floor was our apartment, and on the second floor lived the Salak family with their daughter and younger son Andrzej, who was my school friend. In the second courtyard on the right was a bakery of the Kozakiewicz confectionery, while on the left were sheds and a public toilet used mostly by the employees of the bakery. The whole building had a sewage system and each flat had its own toilet. We had four rooms, a kitchen and a bathroom with a tub, a sink and a toilet. Parents converted one large room into two smaller ones. At the beginning, there were two double, one four-bed and one single room for our guests. In the middle of the apartment there was a spacious dining room with a large table, a piano and a couch, as well as a table with a radio […] I remember some unusual guests. They were the Jewish theater groups of Ida Kamińska and at other times Lola Folman.
By the decision of the District Court in Płock of September 27, 1932, the owner of the property located at ul. Kolegialna 4 became the Bankruptcy Trustee of the A. Rogozik Banking Company in Płock. Pursuant to the decision of the Management Board of the Credit Society of the Town of Płock of March 2, 1933, the property was put up for sale by public auction due to late loan installments. Its last owner was Jakub Józef Głowiński, who purchased it at a public auction at the Town Court on October 4, 1937.
Jakub Józef Głowiński, born on December 4, 1870 in Płock, was the son of Mordka – a trader and Chaja Ryfka. His wife was Mindla née Podrygał, with whom he had six children: Masza Cwyja Flek, Jerma, Menachem, Chaja Rywa Arendt, Ruchla Arendt and Tauba Merenlender. Jakub Józef Głowiński was a member of the board of the Zionist Office association in Płock and the owner of several Płock properties (at 24 Szeroka St., 22 Tumska St. and 11 Królewiecka St.), and above all a well-known industrialist from Płock, co-owner of the J.J. Głowiński, A. Kenigsberg & Co. Merchants' Mill in Płock. The company was founded in 1913. It was located in a real estate marked with mortgage number 185½ B (45 Bielska St.), which Jakub Józef Głowiński, Abram Liber Kenigsberg, Abram Pantofel and Hersz Chaim Hamburger purchased from Franciszek Gutowski. It was an electric flour mill.
In 1927, Głowiński leased a steam mill in Włocławek from the company "L. L. Sztern & Sons Włocławek Steam Mill Co.", and in 1929 he established another company with them in order to purchase, sale and process grain as well as grain products such as flour, bran, etc. under the name L. Stern, JJ Głowiński, A. Kenigsberg & Co. Mercantile House, with its registered office in Włocławek 30/32 Karnkowskiego St. A year earlier, Jakub Józef Głowiński, together with Menachem Głowiński and Mordka Głowiński, established a company with Hersz Ajzyk in order to operate a motor mill built in Ajzyk's estate in Dobrzyń nad Drwęcą. Commercial part of the enterprise under the name "J.J. Głowiński & Co." was run exclusively by the Głowiński family – they were responsible for buying and selling grain, grain products, concluding contracts with sellers, buyers, issuing, signing checks, bills of exchange and all monetary obligations.
Jakub Józef Głowiński and his five children were murdered during World War II. His inheritance passed after his death to Ruchla Arendt and Zygmunt Flek – the only son of Masza Cwyja Flek nee Głowińska.
After the war, the property at 4 Kolegialna 4 Street housed the seat of the Leatherworkers and Saddlers Cooperative and a vulcanization company of Stanisław Grzymała.
Bibliography:
Nowak G., Kolegialna 4 [exhibition catalogue], Płock, 2017
---