The guidebook "In the footsteps of Płock Jews" is available now!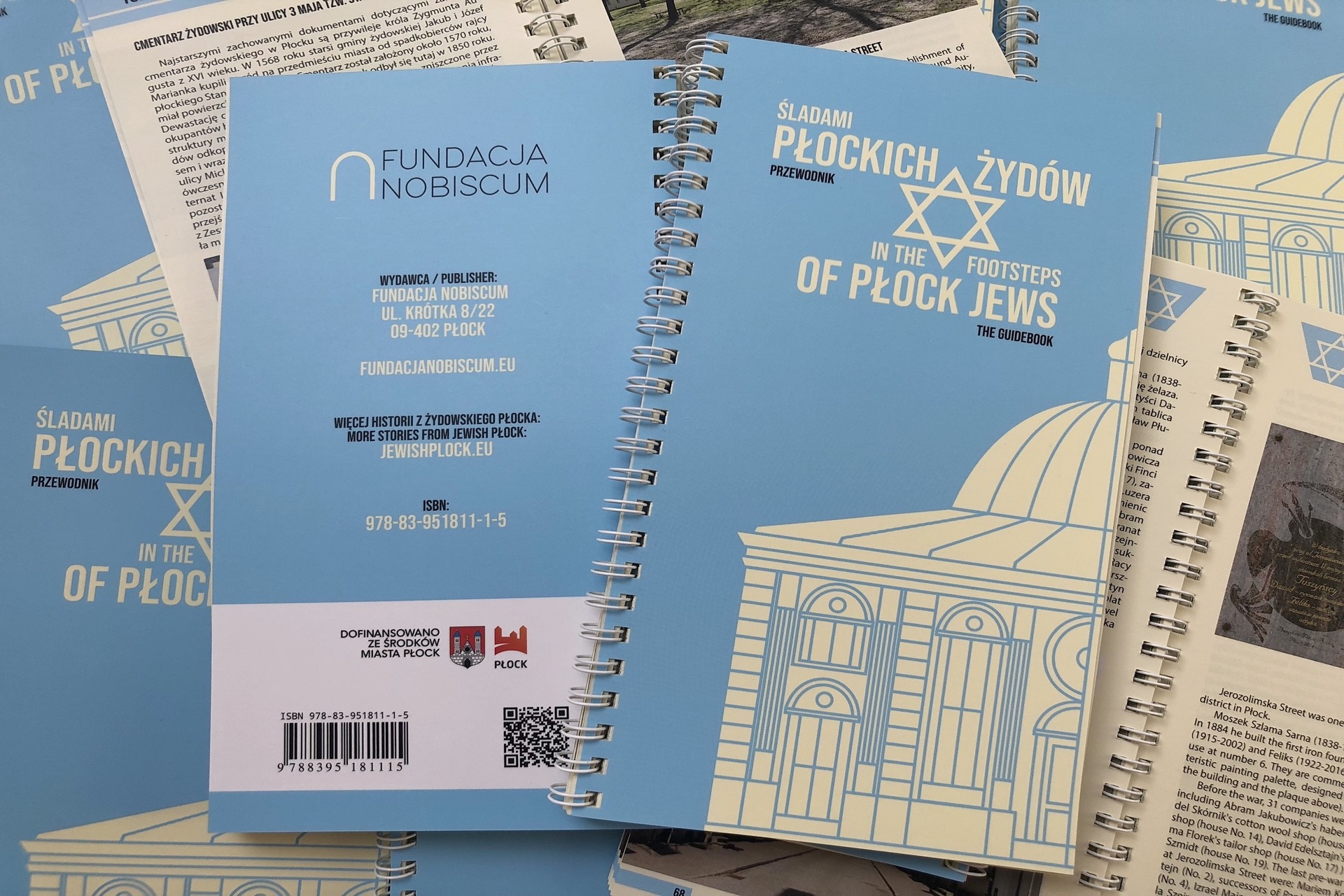 The mikvah, which existed even before the construction of the beautiful building, which is now the seat of the Art Gallery of Płock. The tenement house in which the Society for the Care of Jewish Children and the Shelter for Homeless Jewish Children was located. The real rabbi's house – unlike the popular building on Kwiatka Street, it was really home to a distinguished Płock rabbi…
The latest publication of the Nobiscum Foundation – the guidebook entitled "In the footsteps of Płock Jews" – on 80 pages contains 37 locations in Płock related to the history of the Jewish community, including places and facts that were brought to light by Gabriela Nowak-Dąbrowska, the foundation's vice president, during her research. Among them are places of religious importance, fulfilling crucial social or simply residential functions.
Before World War II, about 9,000 Jews lived in Płock. Jews had their homes, stores, workshops and enterprises here. They lived within the Jewish district, including Szeroka Street (today's Kwiatka Street), Więzienna (Sienkiewicza), Ostatnia, Jerozolimska, Synagogalna, Bielska, Tylna and Niecała streets, but also on the most representative streets of the city – Tumska, Grodzka and the Old Market Square. The book is not only a guide to places – it tells the stories of people, the former Płock Jewish community – artists, social activists, medics, craftsmen, entrepreneurs…
The guidebook is the culmination of a project implemented by the Nobiscum Foundation thanks to funding received from the City of Płock, which aims to expand knowledge about the centuries-old presence of Jews in Płock and their role in the social, cultural and economic development of our city among Płock residents as well as visiting guest.
The guidebook was published in an edition of 500 and is available free of charge at the seat of the Płock Local Tourist Organization at 8 Old Market Square and the Art Gallery of Płock at 36 Sienkiewicza Street, starting from Friday 25 October 2019, during the opening hours of both institutions.
All current information about the guidebook is available at:
Contact regarding the guidebook, including shipping by post: info@fundacjanobiscum.eu

---