The Brygart family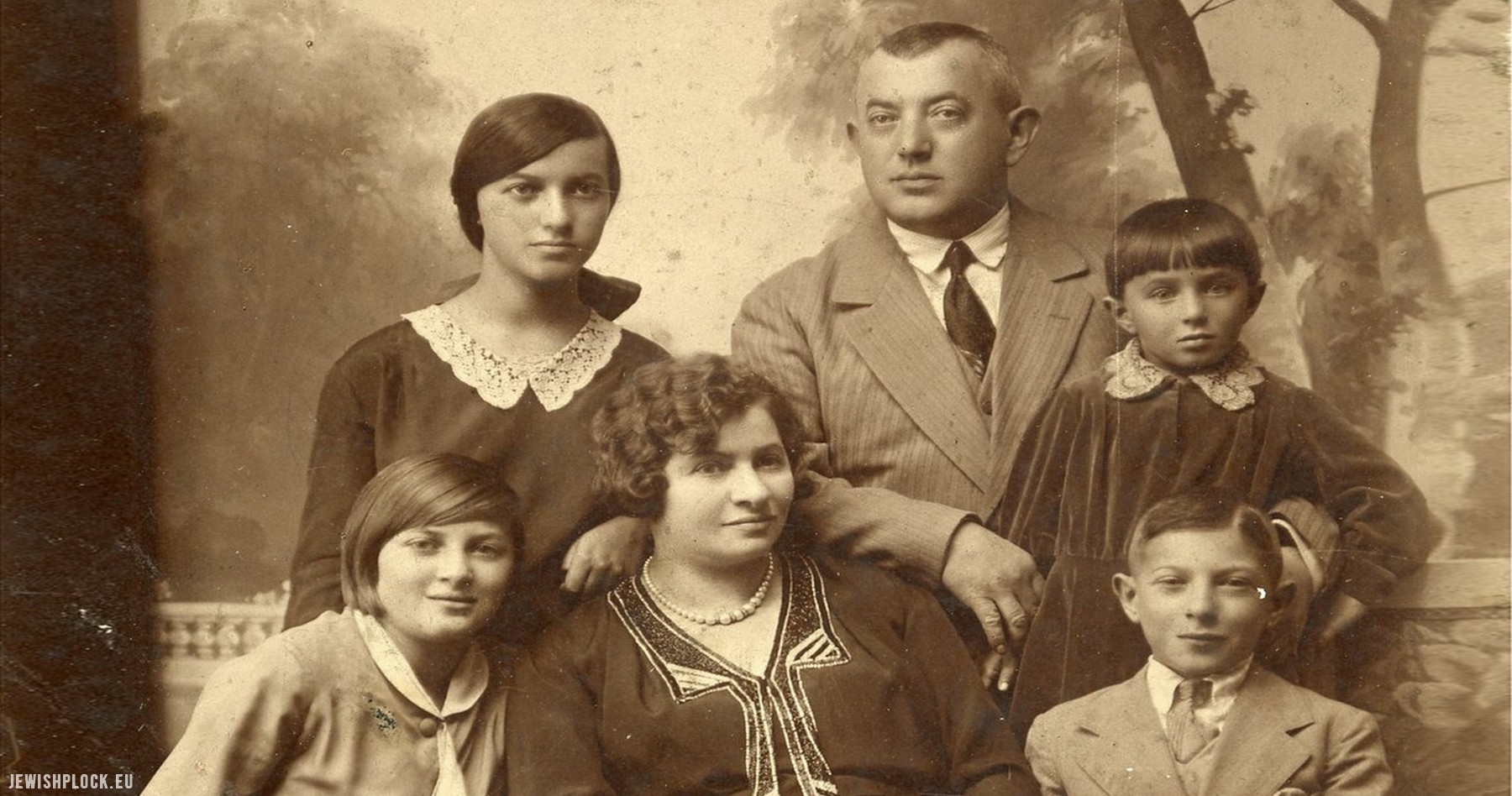 Lejzor Brygart was born on March 13, 1893, he was the son of Szlama (1842-1911) and Iska nee Fibus (1855-1918). Szlama Brygart was a butcher by profession. Lejzor had a younger brother – Dawid (born in 1894). In 1913, Lejzor Brygart married Dwojra Ides Bomzon (born in 1889; daughter of Izrael Abram and Enta nee Szrajber). They had four children: daughters Ruchla (Rushka; 1916-Holocaust), Iska (Irka; 1919-Holocaust) and Chanka (1927-Holocaust) and son Szmyl Szlojma (Sam; 1920-2015 in the USA).
In 1919, Lejzor and Dwojra Ides bought a property at 20 Kwiatka Street in Płock and were its owners until the outbreak of war. At 20 Kwiatka Street in the interwar period there was a shop with kitchen utensils of Hersz Szejnwald, a watchmaker's shop of Moszek Klajnfeld, a cloth shop of Lejb German, and a leather store of Arje Kossobudzki. Dawid Kryszek traded in crops at this address, and Lajzer Gabes offered glass-making services. According to data from 1931, 141 people lived there, including Basia Brombergier, Icek Lejb German, Dawid Makower, Abram Wajnsztok, Icek Majer Ejlenberg, Dawid Pencherek, Abram Majlech Bresler, Dawid Kryszek, Ryfka Ogórka, Hersz Gabes, Abram Rozenberg, Abram Chaim Albert, Szyja Dziedzic, Moszek Abram Einfeld, Abram Moszek.
Lejzor and Dwojra Ides Brygart were also the owners of a colonial goods store and a bakery in Płock. One could buy candies there, holiday gingerbread, and chulent on Saturdays. Their business was located at Kwiatka 28.
Only Sam Brygart survived World War II and the Holocaust. After returning to Płock, he found employment in a confectionery and bakery cooperative. He married Frymeta Menche (1922-2016), the daughter of the merchant Chaim and Sura née Gutman from Gąbin. Sam and Frymeta emigrated to the USA.
A good story is how my parents came to the United States, Boston to be exact.
Dwojra Ides Bomzon, had a half sister Chena Chaja (born in 1877), daughter of Enta Szrajber from her first marriage with Abram Frydman, who came from the town of Stężyca. In the late 1800s, Chana Chaja Frydman married Icek Chaim Keller. Chana (we know of her as Helen) died in 1911. She and her husband had 3 children, the oldest being Herman Joseph Keller (followed by Eugenia/Gertrude, and Matthew). Icek Chaim Keller (we know of him as Harry) remarried Ester Rotman. There were 2 children born of this marriage in Płock (daughters Teresa and Mildred) . The Keller/Rotman family emigrated to Boston in 1912 and 1913. A 3rd child was born in the United States (a son, Paul).
Herman Keller visited Płock in 1935. He ordered a headstone for his mother Chana Chaja Frydman Keller, and for his stepmother's mother. He of course visited the family and his grandmother Jenta/Enta Szrajber Frydman Bomzon, who had him promise to come back with his oldest son, Norton Keller. Herman and Norton came to Płock in 1937 to dedicate the headstones, to visit with family and continue to the 1937 Paris World's Fair and family in England. A film was made during this trip. Herman was a wealthy man and he had a movie camera. My father was 17 at the time of this visit and my father learned Herman's address. In the film we can see my father interacting with Herman.
When the war ended, an American soldier wrote a letter to Herman on behalf of my father. Herman and his wife Sonia sponsored my parents, who were displaced persons, and Sam and Frymeta emigrated in 1949 from Kaufbueren. And voila, I was born in Boston August 26, 1951.
Herman sent my father to a school to learn to be a baker, figuring that my father knew something about it as Lejzor was a sugar baker. My father then worked as a baker in Boston and my mother worked in a sewing factory, snipping threads.
In 1952 my parents moved to Chicago, where my mother had cousins, Morris and Esther Borenstein. First my father had a bakery (Albany Bakery) with a partner, another refugee from Płock by the name of Lisser, and his wife Fela. My sister Leslie was born June 19,1954. Eventually the partners sold the store and my father purchased Fireside Bakery.This was about 1-1/2 blocks from the Borensteins and we moved to that neighborhood. Winters in Chicago are very difficult (it is called the Windy City for good reason) and my mother especially found the weather very difficult. My father sold the store and January 30, 1964 we left Chicago (in a blizzard) and headed west to California.
We stayed at the home of my father's best childhood friend, Moniek Zielonka (Michael Zelon) and his wife Cesia (Charlotte) for about 2 weeks and found an apartment of our own. My father worked as a baker for a short time. Then he and another Polish (not from Płock, I don't think so) refugee, Manfred (Fred) Saltzman, bought a liquor market in El Porto, California (now part of Manhattan Beach, California). In the early 1970s, Fred retired and that store was sold. My father bought another liquor market that was already called Sam's Liquor, in Lakewood, California, so he didn't have to buy a new sign. Unfortunately, my father was a "victim of a violent crime" in the late 1970s because of that store and he lost vision in his left eye.
My father sold Sam's Liquor in 1985, when he was 65. He immediately began walking at the beach every day, going to the gym, taking care of the house since my mother was still working and being an involved grandfather to my son Evan David McMurry (from my 1st marriage, June 27, 1982) and my sister's children as they came along (Zachary Brygart Ellison, July 29, 1986 and twins Travis Buckner Ellison and Rebecca Rose Ellison, born February 13, 1989). We called father's car "Papa's Taxi".
He and my mother, who had retired in 1988 or 1989, lived a quiet, peaceful life. Sadly my mother began developing dementia (as did her sister) in her mid-80s. At least that is when we began to notice it. And my father developed hairy-cell leukemia in his early 90s, which later progressed to Non-Hodgkin's lymphoma. It was his choice not to treat it and June 15, 2015 he went into hospice care, at home. The last few days were horrific as he spiraled into post-traumatic stress syndrome and was reliving the war. We had to keep him sedated to keep him safe. Sam died around 8:30 am August 5, 2015. He was intent on living until he was 95, and he did, plus 1 month and 1 day. Frymeta never could remember that he had died (after 72 years of marriage). She lived 6 months and 10 days longer, until around 6 am February 15, 2016.
Sandra Brygart Rodriguez
---