The Bomzon family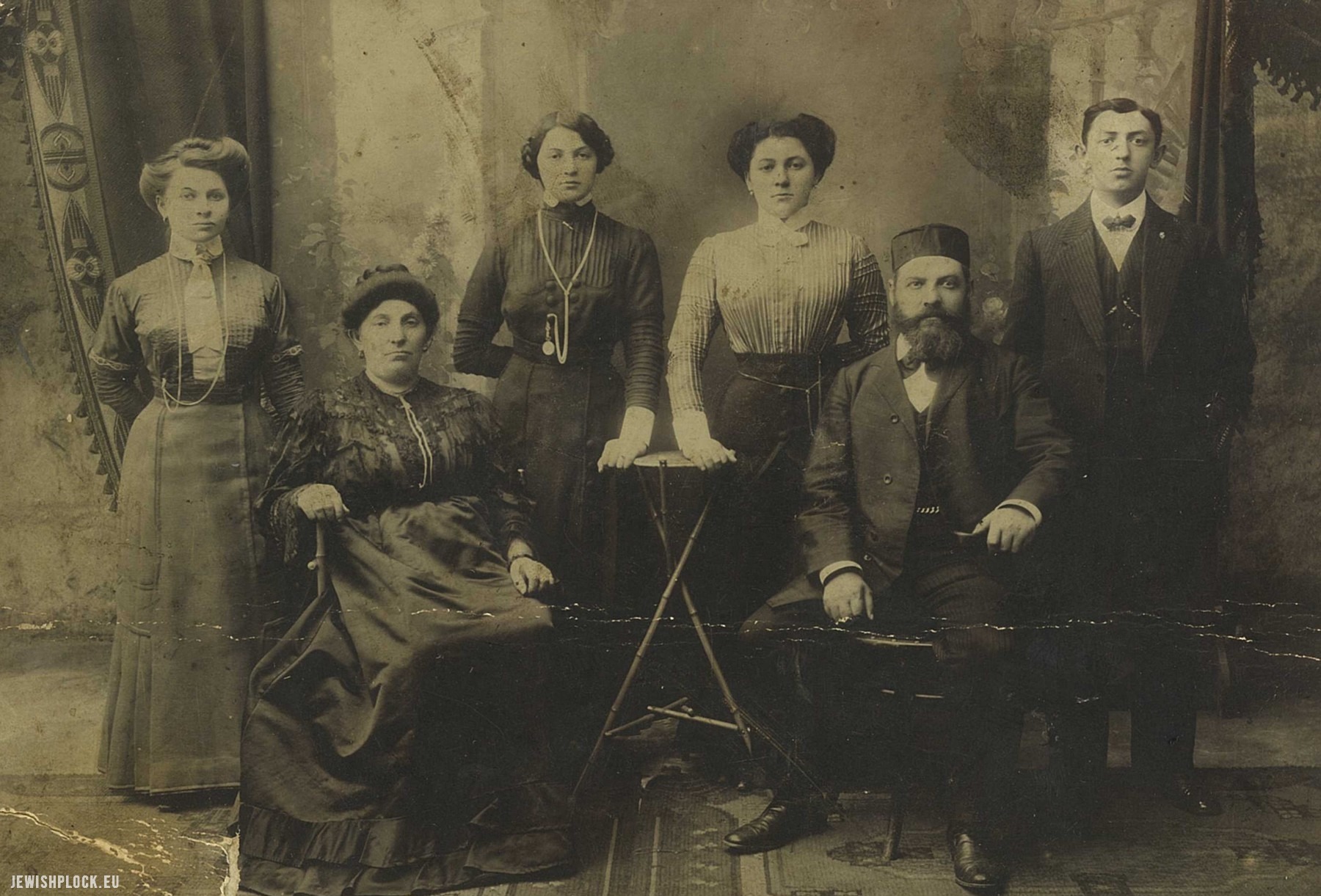 Mining of the records revealed that the Bomzon (Baumzon; Bomsohn) family resided in Płock from the beginning of the 19th century.
My great grandfather, Izrael Abram Bomzon (1861-1913), son of Dawid Szlama (1826-1904) and Ruchla Łaja nee Liberman (1830-?), who was a professional gingerbread baker, married Enta Szrajber (1854-Holocaust) in 1901. The Bomzon family lived at the former Szeroka Street at number 30. In 1902, Izrael Abram Bomzon and his wife bought a property located at Szeroka Street (mortgage number 64A) and were its owners until 1905. Izrael Abram and Enta had eight children: Chaim (1885-1896), Hersz Fajwel (1887-?), Bajla Sura (1887-Holocaust), Dwojra Ides (1889-Holocaust), Estera (1891-Holocaust), Chawa (Eva) (1892-1968 in London), Brucha (1897-1906), and Lejb (1893-Holocaust).
In 1907, Bajla Bomzon married Moszek Ejzenman and they had eight children, four of whom migrated to Buenos Aires before the outbreak of World War II and the Holocaust. Two of the sisters, Hinda Ruchla (1917-2002; in 1949 she changed her name to "Dasza") and Estera Malka (1910-2005; in 1953 she changed her name to "Elżbieta Maria") survived the war in Russia and after the war returned to Płock, where they lived until they died.
Dwojra Ides Bomzon married Lajzer Brygart in 1913, and they had four children, Ruchla (Rushka; 1916-Holocaust), Iska (Irka; 1919-Holocaust), Szmyl Szlojma (Sam; 1920-2015 in USA), and Chanka (1927-Holocaust). In 1919, Lejzor and Dwojra Ides bought a property at 20 Kwiatka Street in Płock and were its owners until the outbreak of war. They also had a well-known colonial goods store in Płock, and manufactured candy and gingerbread. Their company was located at 28 Kwiatka Street. Sam Brygart was the sole survivor of his family and he migrated with his wife, Frymeta Menche (1922-2016), to the USA, where they had two daughters, Sandra and Leslie.
Estera Bomzon married Josef Hersz Cynamon in 1913, and they had four children, Izrael Abram (1914-2003 in Israel), Chana (1917-Holocaust), Lajzer (1922-Holocaust), and Ruchel (1926-Holocaust). Izrael was the sole survivor of his family and came to Israel (Palestine) as a soldier in General Anders' army.
Chawa left Plock in 1910 to live in London, England, where she married Icek (Izaak) Wagner with whom she had three children. After Icek's death, she married David Golding in 1923, with whom she had five children.
My grandfather, Lejb Bomzon, who was a confectioner, married Tauba Żeleźniak (daughter of Chaim Josef and Chana nee Motyl) in 1917. They had three children: Izrael Abram (Julius; 1918-1996 in Israel), Icek Jakub (Kuba; 1922-Holocaust) and Chana (1926-Holocaust). My grandparents and three children lived in one of the apartments at 33 Bielska Street, a property owned by Hersz Józef Bochenek and Fajga Pencherek. My father, Julius, was the sole survivor of his family. He hardly ever spoke of his childhood and lost family and never returned to Płock during his lifetime. He migrated with his wife, Bella Kociołek (born 1924) and only son, Lionel (Arieh; born 1947) to Sydney, Australia in 1947. In 1990, he and his wife moved to Israel to become the patriarch of the Bomzon family. Arieh married Therle (Tova) Hoffmann (born 1947) in 1972 in Johannesburg, South Africa, where they had three sons, Wayne (Ze'ev; born 1973), Keith (Ilan; born 1975), and David (born 1977). In 1981, Arieh and his family migrated to Israel.
Arieh (Lionel) Bomzon
---